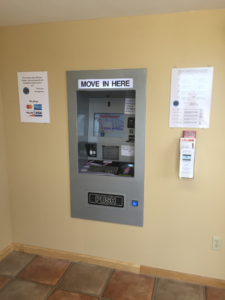 Select "New Customer" for unit availability, prices, and unit descriptions.
Have your driver's license ready for the system to make a copy.
When taking your photo, be sure your face shows on the screen.
Read your contract carefully before clicking "I agree."
Have your rental agreement emailed to you, printed, or both.
Receive your lock and keys from the kiosk dispenser.
If you are a current customer, select "Existing Customer" and use your unit number (must be four digits, you might have to add zero(s) to the beginning) and your last name to access your account.
Overlocked units are generally unlocked within 24 to 48 hours of payment (Weekend and Holidays excluded). We do not remove locks or allow access until the account is paid in full. Checks may have to clear the banks.
This is a rental and pay station. It does NOT dispense cash or give change. If you overpay, the extra funds will be credited to your account.
If you are paying by check, do not insert the check until requested by the machine.
Current tenants: If the gate does not respond to your code entry, check to see if there is a balance on your account. If there is, make payment, then reenter your code to activate the gate.